Ferrari's Little Italy, The Best in Italian Cuisine…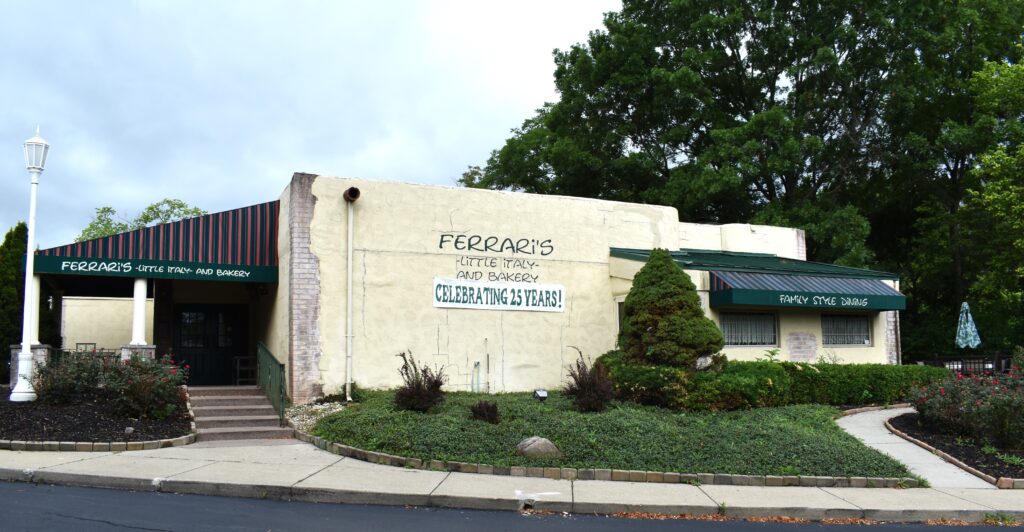 August 17, 2023, This is the third story of the three Madeira eating establishments in Madeira, owned and managed by females. The owner of Ferrari's was not available for her story, so I will write about my personnel knowledge of the business. Ferrari's has been in business for 25 years, but before there was a Ferrari's the site was a Cork and Cleaver restaurant, followed by a Mexican restaurant, before becoming Ferrari's. Now we are celebrating a top notch Madeira restaurant beginning their 26th year in business, led by Patty Bassano. In addition to owning a Madeira Restaurant, Patty is a resident of Madeira. I remember when Patty and her husband Tony worked in Ferrari's together, I was selling work shirts and Tony purchased shirts for all of his employees. I assisted in the creation of the Ferrari's logo, that is still used today on employee work shirts. Tony unexpectedly died of a heart attack. How lucky we are here in Madeira that Patty has stayed committed to the family business. Three great Madeira businesses, Ferrari's Little Italy, Ali's and the Madeira Inn, run by Madeira Women.
What A Difference, in Just Three Months…Fe
August 13, 2023, Allison Tepe – Guy, is the owner of Ali's Bar and Grill, one of three female owned restaurants in Madeira. The messenger interviewed Allison in May of this year, learning that she had many ideas for Ali's that would make the business more attractive to her existing customers and would attract new customers. I sat down with Allison where I learned about the past few months. Everything begins with the menu and Ali's will soon be rolling out their "new menu". Along with the new menu will be more hands on, in the kitchen, meaning that Allison and her husband Dan Bowman will be overseeing most if not all of the cooking. Inside the restaurant changes include, four new large screens allowing for more viewing by customers sitting in different areas of the restaurant, new tables and chairs, a new double door Sub Zero refrigeration unit, new flat top, new fryers, and Keno available to customers. Oh I forgot, the ladies restroom has been updated. The outside improvements include a new façade and new outside seating on the front porch.
Allison described her growth over the past three months as "expeditiously good", allowing her to be one of Madeira's most generous businesses. She has helped with 2 scholarships, in the name of her son Tyson Guy. Tyson died in a traffic accident caused by a drunken driver. Ali's has also contributed to the Madeira Woman's Club. Allison attributed her success to the Madeira Community, allowing her to "give back". As a Madeira Chamber member, Allison is looking forward to their help promoting and participating in her first Dora event, planned for Saturday, September 16th. The event will be held in Alli's back parking lot. The Whistle Pigs band will provide live entertainment and a Stagnaro Beer Dispenser will be on site. For those wanting "Pure Pops" they are now hand crafted at Alli's by Dale Nugent, his wife Tracy and their two children. Come to Ali's and see for yourself why the Madeira Chamber awarded Alli's as one of Madeira's best.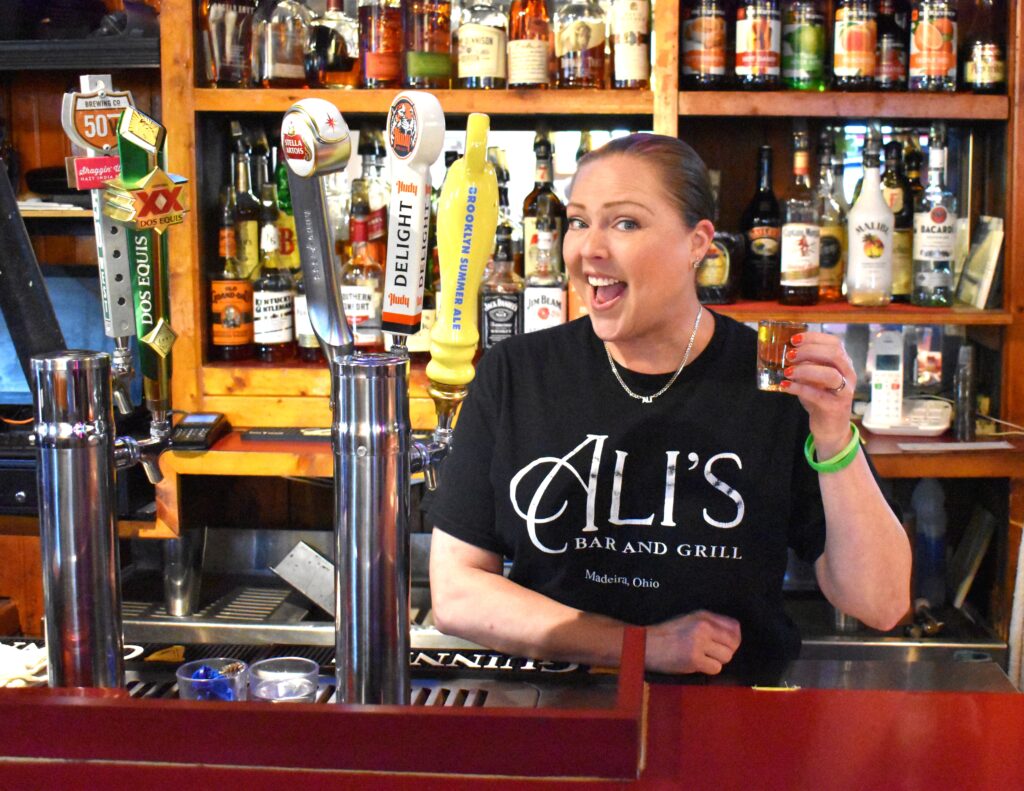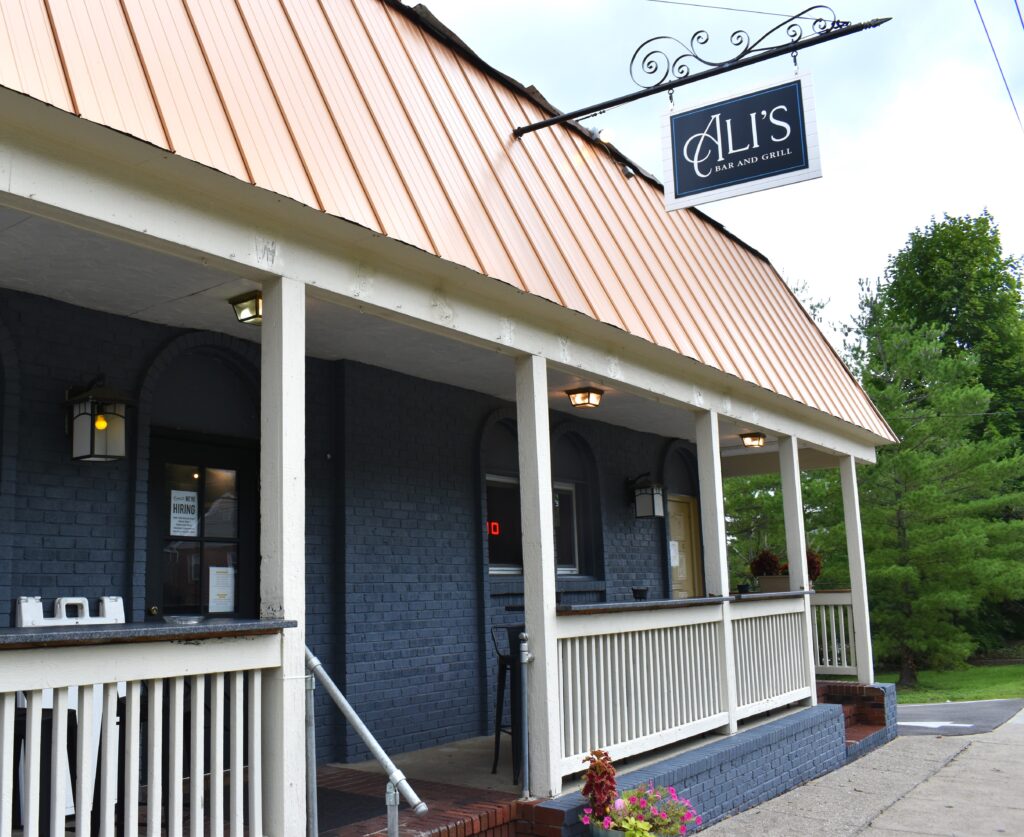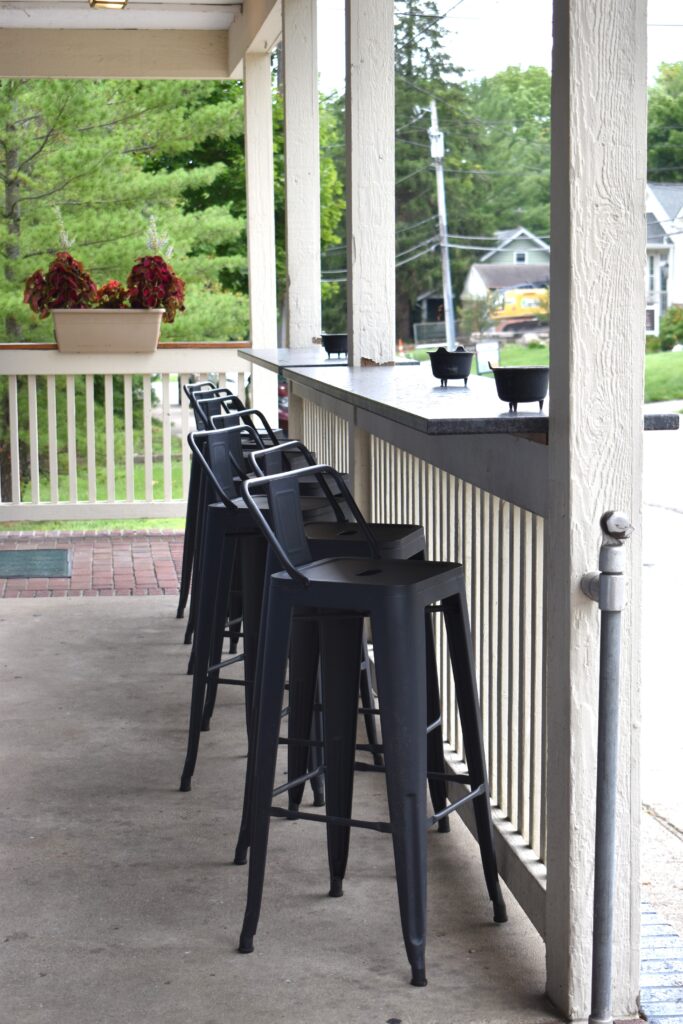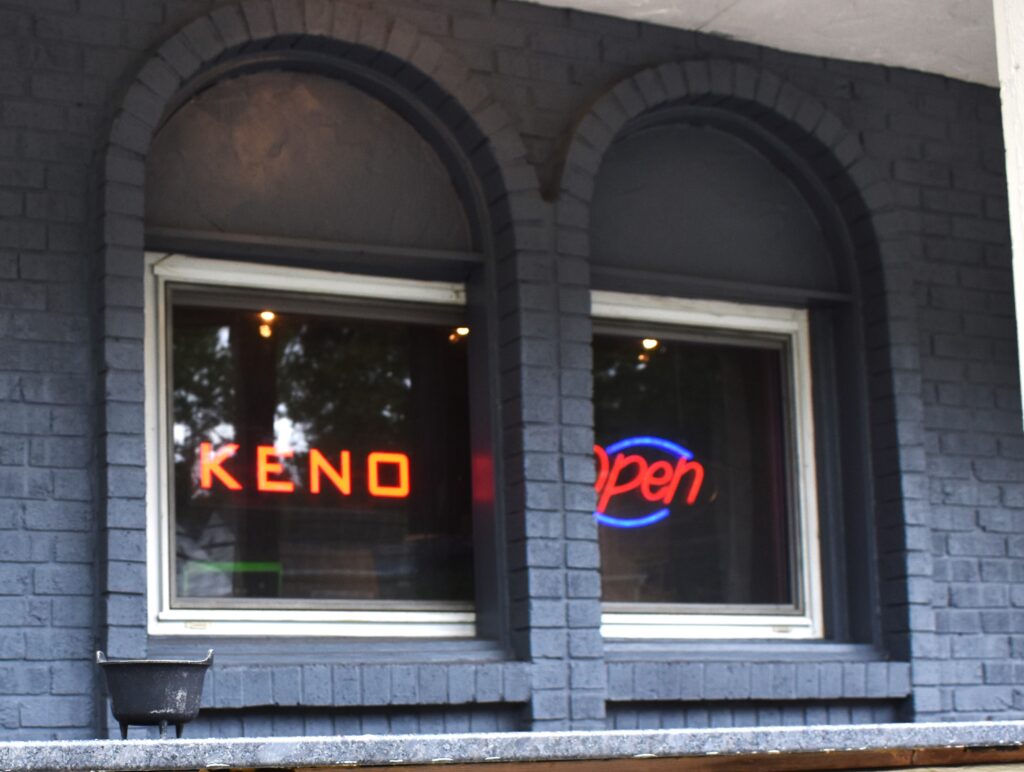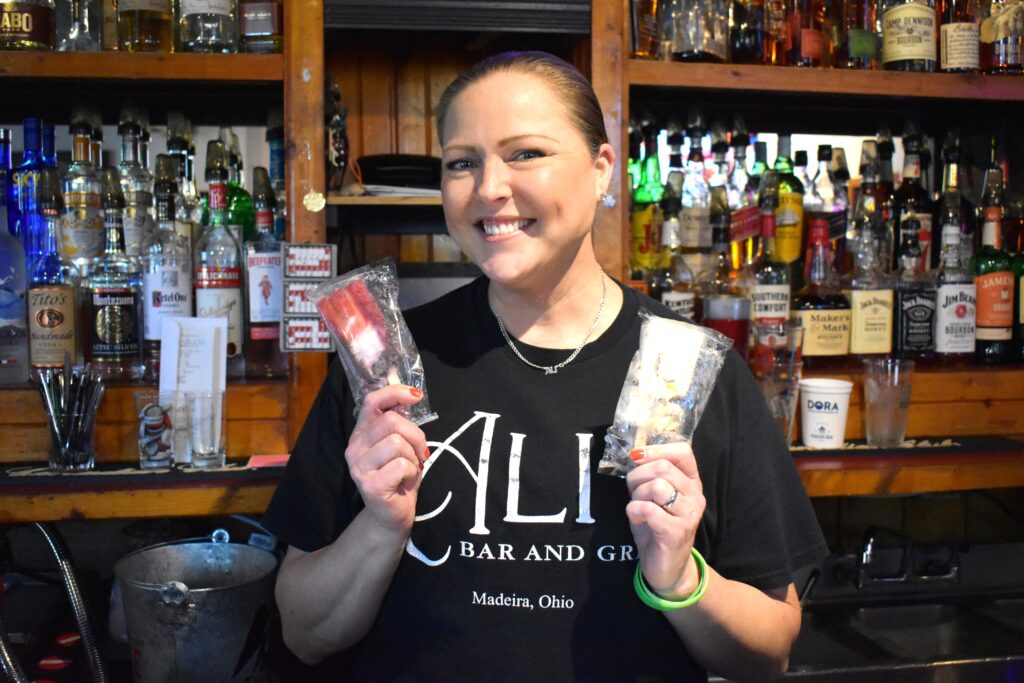 August 2023, Daley Design + Build is a full service design and construction company focusing on new home construction, renovation and addition projects. Daley is focused on quality, including 4-5 new builds, and 5-6 renovations annually, ensuring the highest levels of quality and craftmanship are achieved on each and every project. Daley offers cost-plus construction contracts and an option for customers to bring in their own Architect. The company is led by the founder and CEO Graeme R. Daley, a product of Indian Hill. He is a graduate of the University of Cincinnati DAAP Urban Planning program. Daley has invested substantially in Madeira, when he acquired what used to be the former Resist-a Frame building, located at 7115 Miami Avenue, across the street from Peoples Bank. This address will become the corporate address for the company, expected to be ready for business in early 2024. Search www.daleydb.com for many more details about this company and the work that they can perform for you. Photos included, Corporate offices when completed in early 2024, Corporate offices under construction 2023, interior 2023, side view under construction 2023, front view prior to construction 2023, Founder / Owner Graeme at Madeira 4th of July Parade 2023.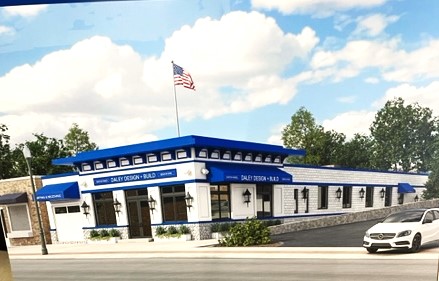 Madeira Inn, Was Built As A Post Office But Will Always be Remembered As A Madeira Watering Hole…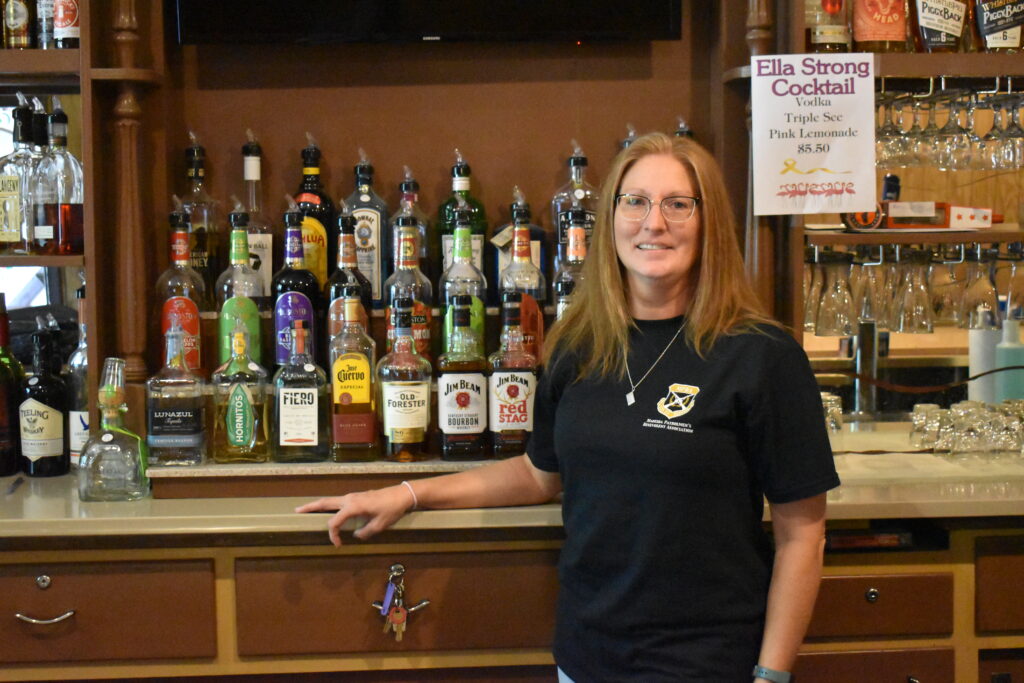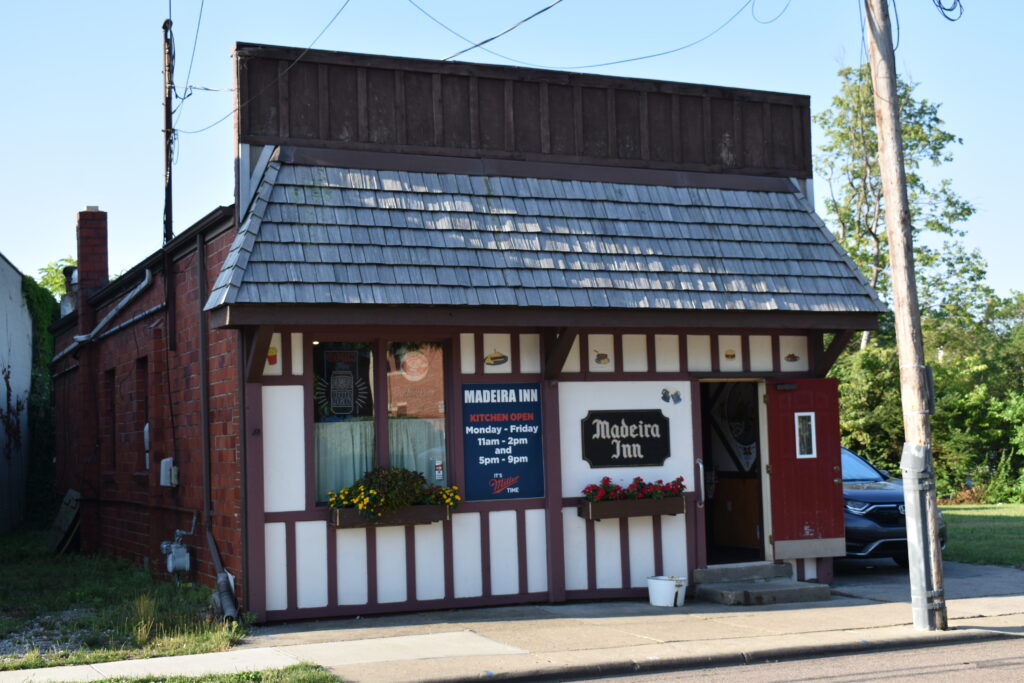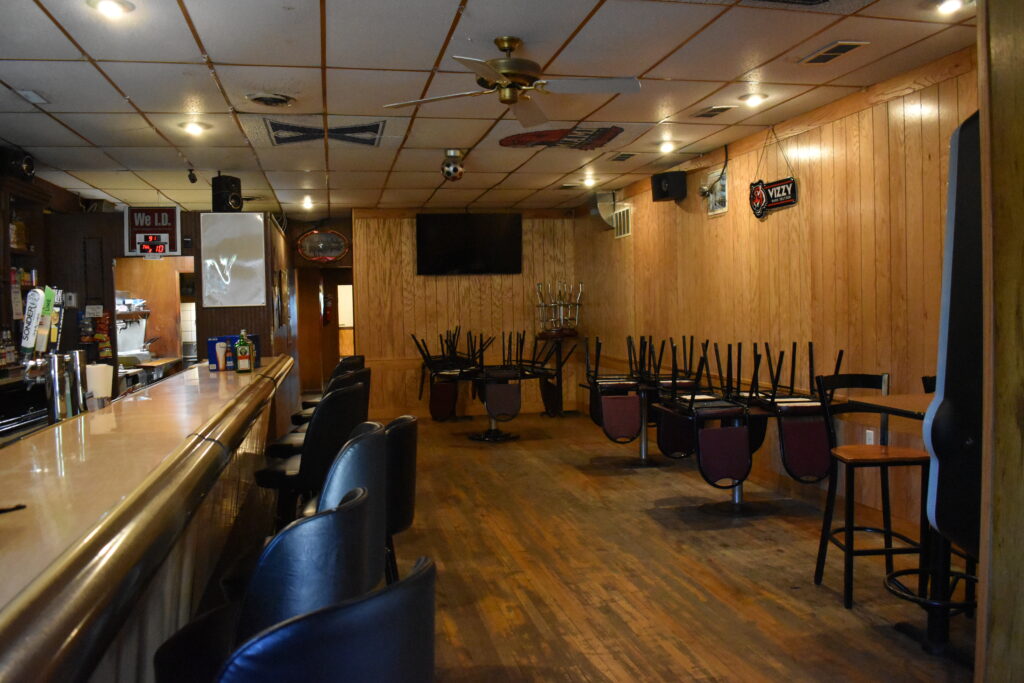 (July 22, 2023), Back in the 1950's there was a new building built at 7717 Laurel Avenue, next door to a historic building, with a first floor meat store and apartments on the second floor. The new building would serve as Madeira's first free standing Post Office, until it was decided that a newer facility was needed, then in the 1960's a new Post office was located to the corner of Laurel and Center Streets, where it still stands today. Madeira Historical Society Archivist, Carol Klenk Heck recently wrote about the history of the Madeira Post Office in Madeira Neighbors, but our story is about "The Madeira Inn" and the current owner, Melanie (Mel) Brandt. After the Laurel Avenue Post Office was relocated, the building that formerly housed the Post Office stayed vacant for a time, before becoming home of the "Madeira Inn", truly a community watering hole, good company, Beer and good food.

As I recall, the first Madeira Inn owners were a husband and wife, the Clarks. I believe that the husband had formally worked at Cincinnati Bell and was on disability. His wife Stell worked with him at the Inn. More recently and before Mel became owner the previous owners were Bob and Margie Robinson. As a young woman Mel (still a young woman today) worked with her Dad, Egon Lohrbach after he purchased the Inn in 1993. Egon and his wife Ursula had immigrated to the United States one year earlier in 1992, from Kassel Germany. Mel has an older sister and a younger brother. Not long ago Mel's Dad became seriously ill and passed away, leaving the business to Mel. Prior to Egons death he had an opportunity to acquire a vacant lot next door, vacant due to an unfortunate fire in the historic building that had sat next door to the Inn.

Mel describes her business as families, repeat business, locals, multi generational, a meeting place. I describe the Inn as an Madeira Icon. After her Dad died, Mel has been slow to bring back Octoberfest, but is planning for it's return this year. Some highlights will be German Bratt's , Homemade Sourcrout, German Potato Salad, and of course plenty of beer. Octoberfest has been a tradition since 1994. Mel plans to turn her vacant lot into an authentic German Beer Garden with lights and maybe some German music. Mel also mentioned the new TV screens, upgraded restrooms and the special ceiling tiles, donated by Radio personality Bill Cunningham. If you have not visited the Madeira Inn, Mel invites you to give it a try, she knows you won't have any regrets.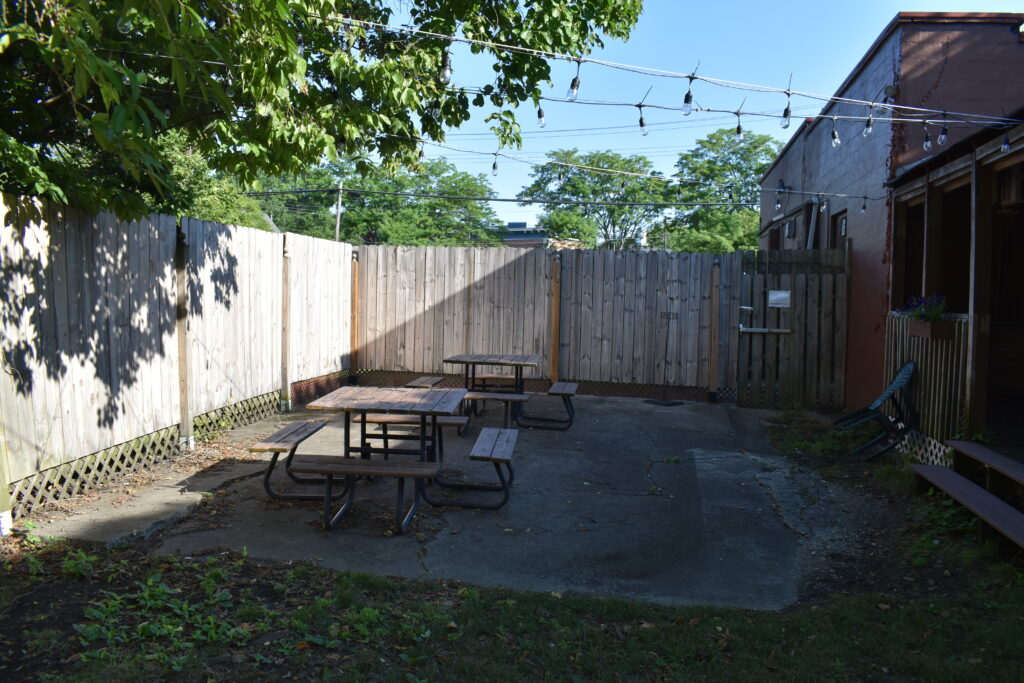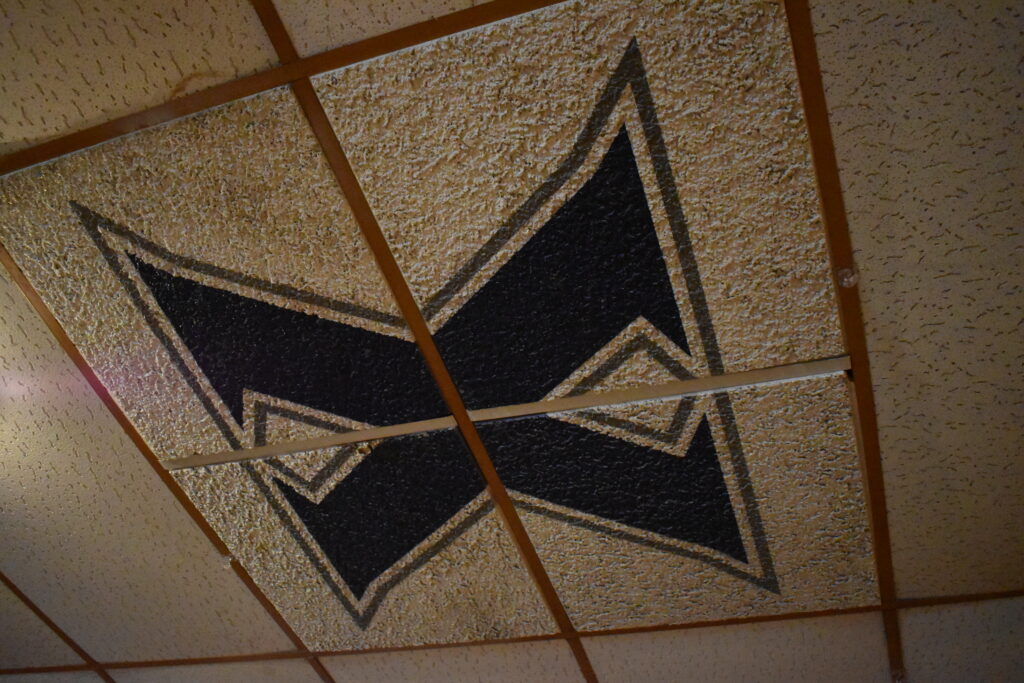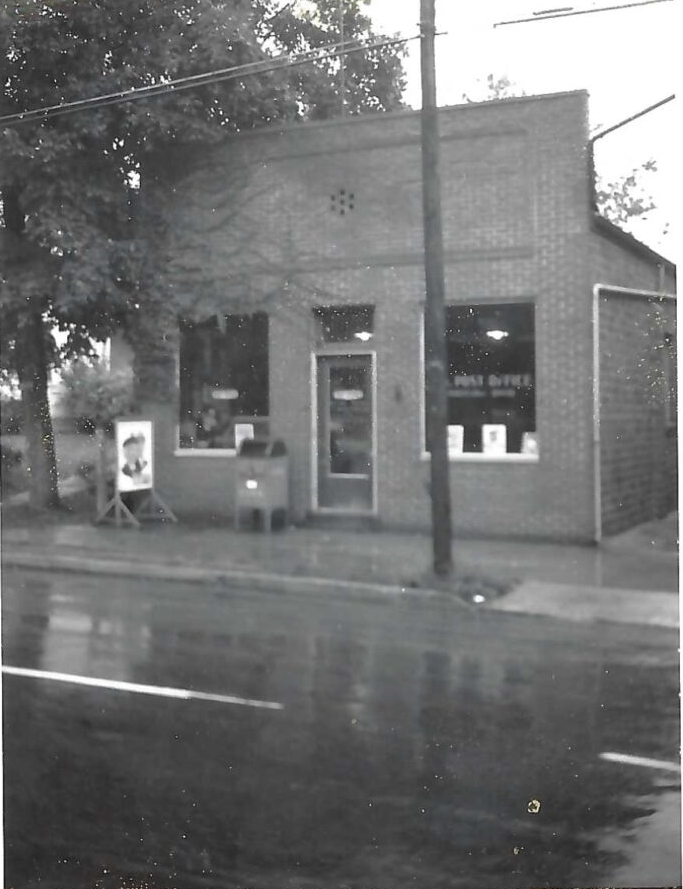 Central Bark Coming to Madeira..
"Central Barks" Whole Dog Care approach aims to enrich your dog's whole health and well – being – throughout their life, so you can enjoy a long happy and loving life together" Rest of this story is coming.
July 2, 2023, This story starts in 1988, when a young P&G Couple were residing on Juler Avenue in Madeira Ohio. That was the year that Clark Shuler was born, and this year that child has grown up, living his dream, "Central Bark", opening in Madeira on Camargo Road. To write this story I sat down with Clark and Loretta Hackel to talk about the new business and their plans for the business. I learned that Clark purchased a franchise and that Central Bark already has a good history established in different parts of the United States. Clark has hired his staff, including Assistant Manager Loretta Hackel. Loretta, and other staff members have been visiting local Madeira businesses the old fashion way, door to door, cold calling, spreading the news that "Central Bark" is coming soon. Staff includes dog groomers, some of whom have been helping with making the cold calls. Loretta describes it as canvassing. Regardless of what you call it, these enthusiastic employees are trailblazers. Clark and Loretta both have successful business backgrounds and leadership skills important when starting a new business. Combine that with a good location at 8185 Camargo Road just outside the primary Madeira business district, and a well prepared staff. The elements for success are all in place. The future could include several additional Central Bark locations in Greater Cincinnati, although the only priority this year will be the Madeira location. Clark would like to eventually clone the Madeira location. Some highlights include an "Enrichment Day Care" a Salon & Spa, Sleepovers, Enrichment & Training, food treats, toys, training aids, apparel, and much more. At some point a "Canine Cab" providing transportation service to and from Central Bark, will be available, "meaning that your dog never needs to miss a day of fun". Contact Central Bark at 513-272-4107 or visit their website, [email protected]. Attached photos include the construction and a photo of Assistant Manager Loretta Hackel, and Business owner Clark Shuler.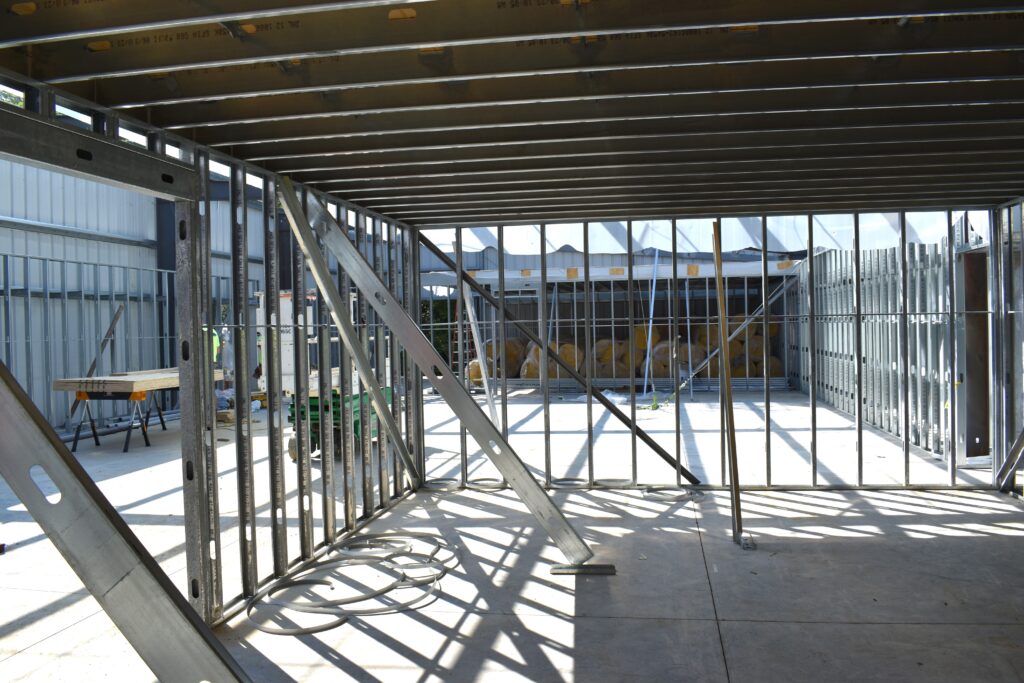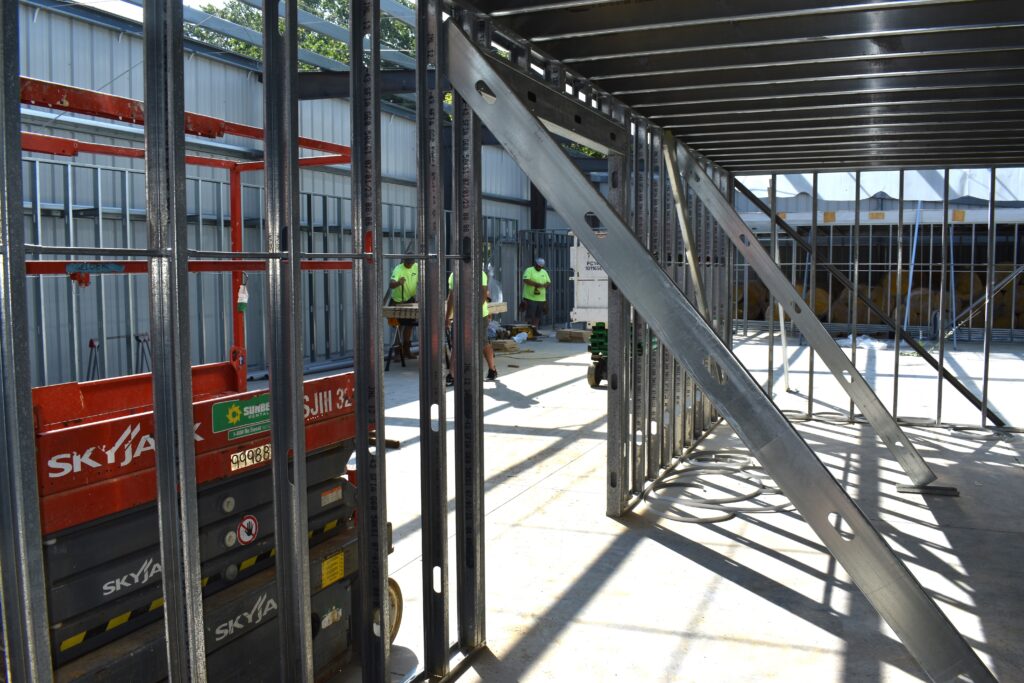 Below photos were taken in late June, three photos above were taken on July 26, 2023. Project is progressing and work is on time.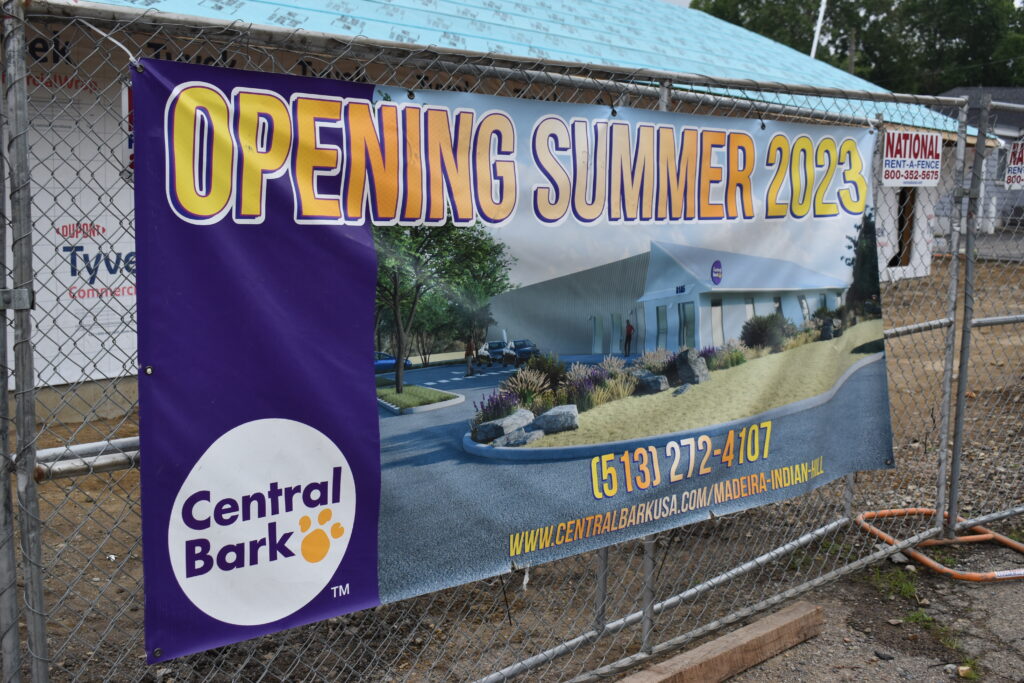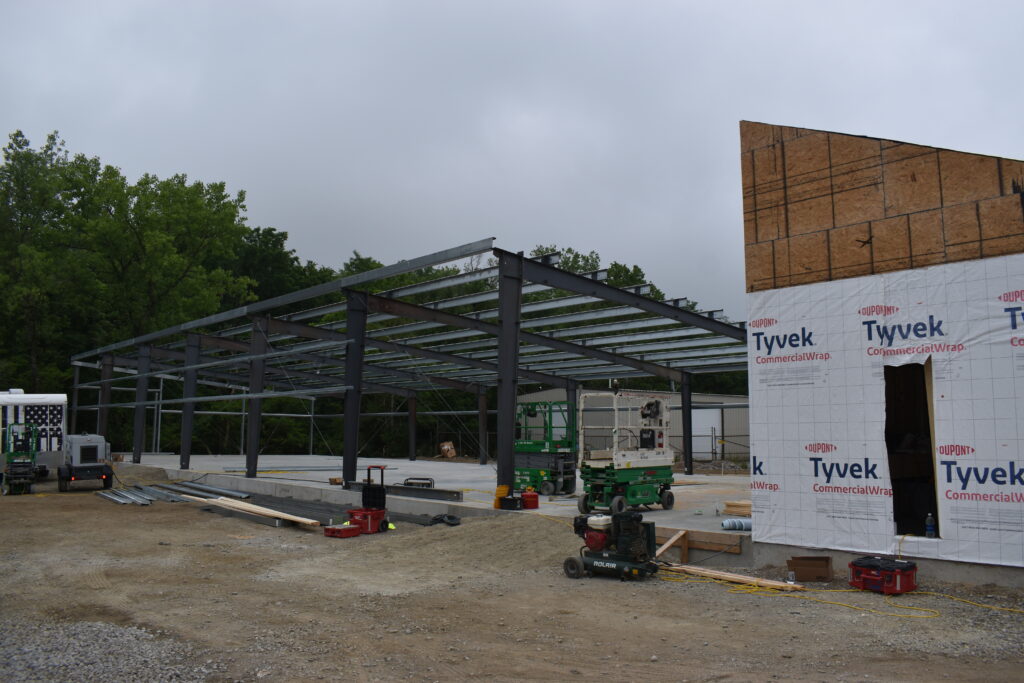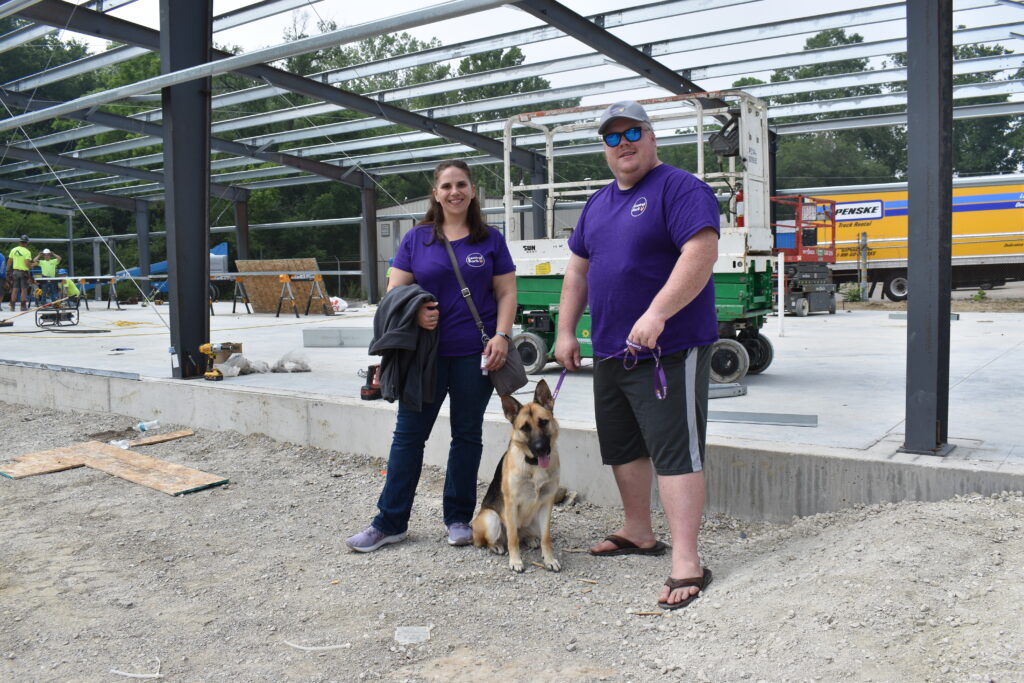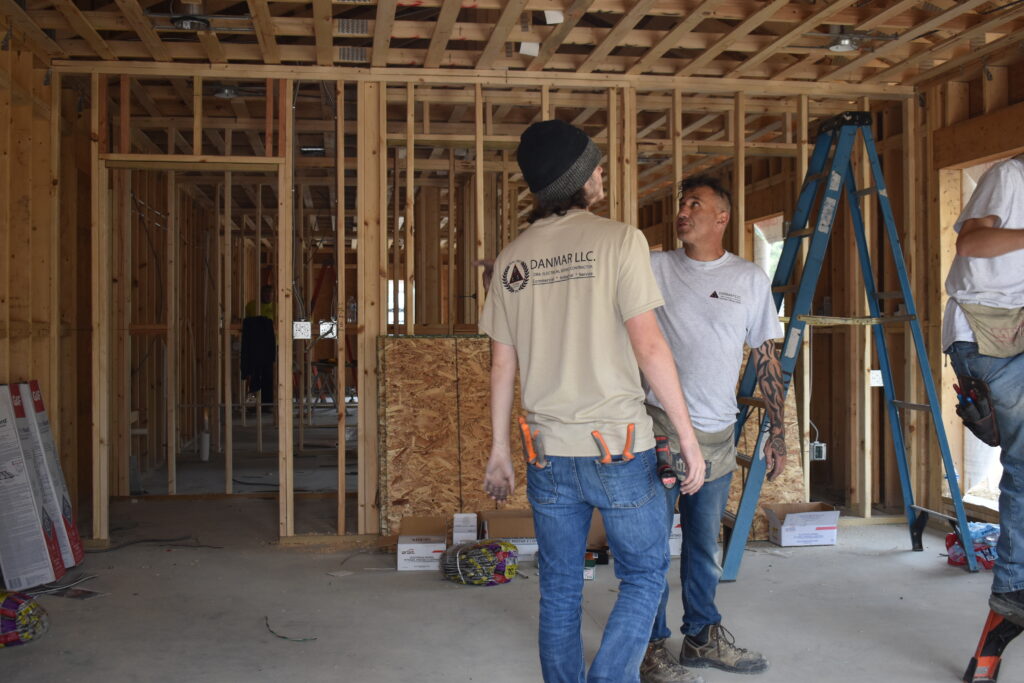 Monk, Sushi, Steak and More
November 30, 2022, Calvin and Christina Tams have re-opened their Sushi restaurant Monk, in Madeira at 7800 Camargo Road, formally the long time location of La Petite Pierre. Calvin and Christina had been doing business in Westchester for eleven years but because of COVID-19, temporarily shut down the Westchester location. The couple found the Camargo Road location available, decided that Madeira was a good fit for re-opening their well known Sushi restaurant. They purchased the property and have spent several months preparing the exterior and interior for opening day, December 2, 2022. Christina says that their three daughters will help out when the restaurant opens and will continue searching for additional part time and full time workers after opening.

Calvin in addition to working in his own restaurant, has spent ten years teaching others how to cook the kind of food that he serves at the Monk. The Camargo Road restaurant will be closed on Sunday's and Monday's. The hours Tuesday thru Saturday are as follows and may be subject to change.
Tuesday – Thursday 11:30 AM – 2:30 PM for lunch, 4:30 – 9 PM for Dinner
Friday – 11:30 AM – 2:30 PM for lunch, 4:30 – 10 PM for Dinner
Saturday – 4:30 PM – 10 PM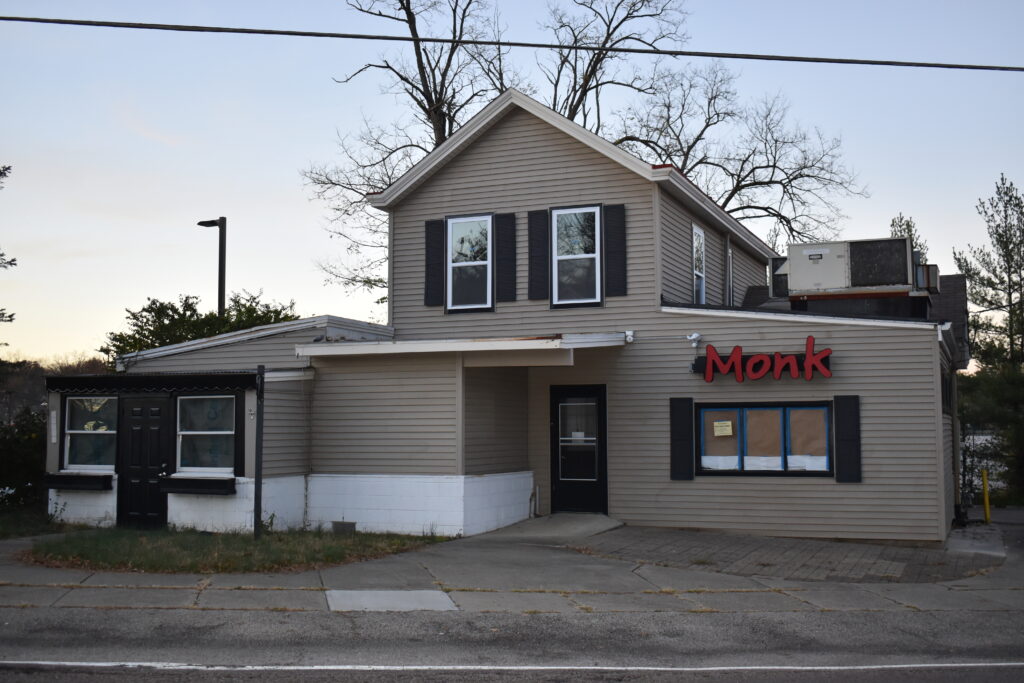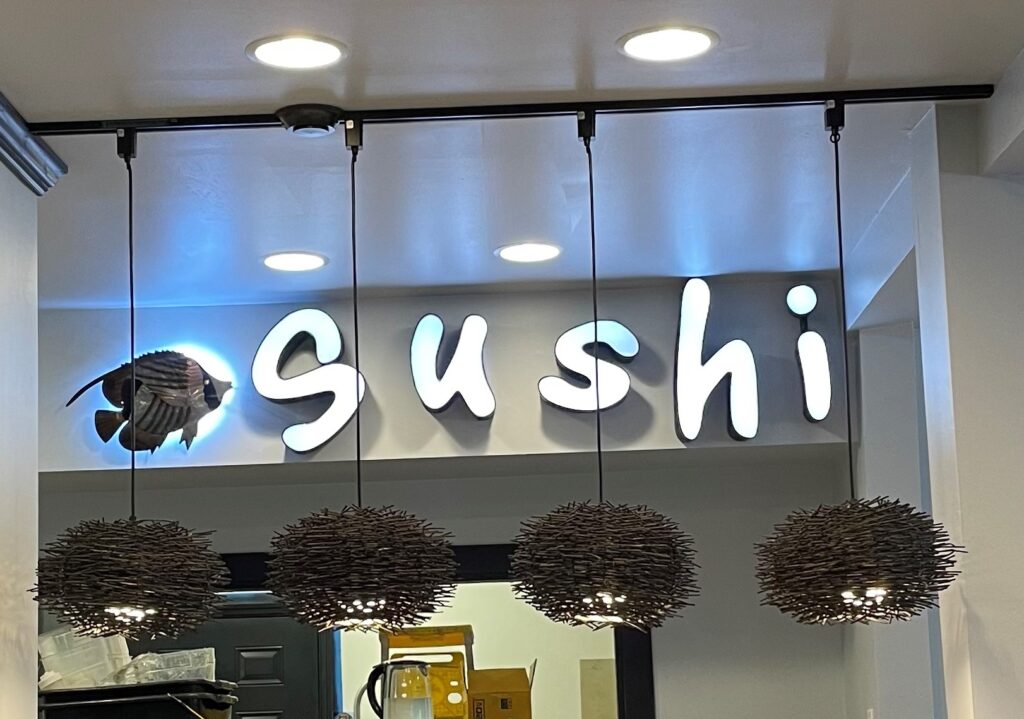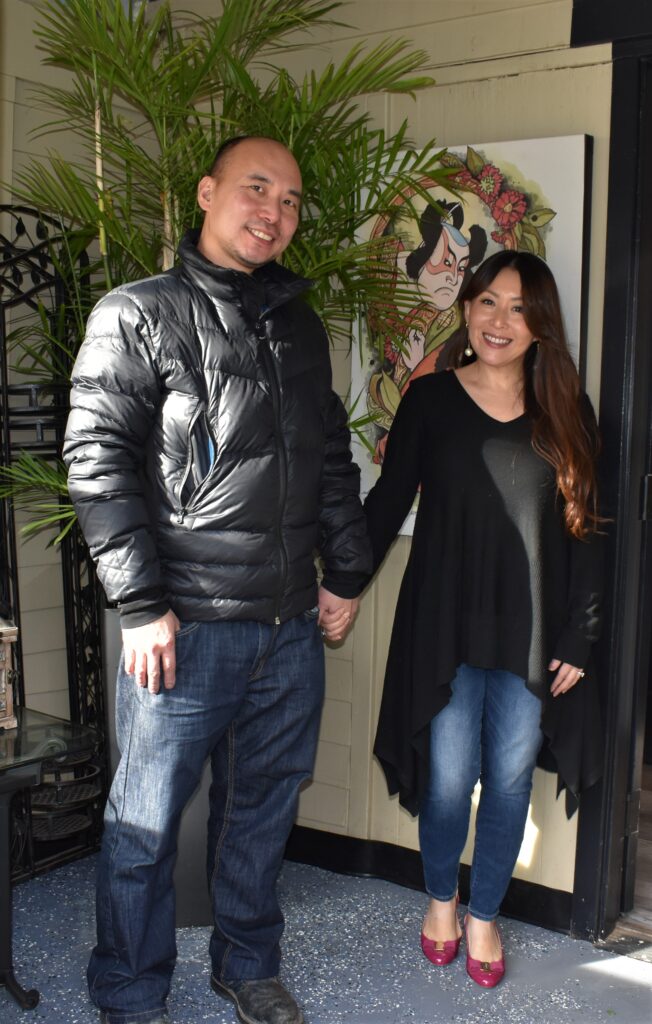 Tax Base Goes From 1.2 Million To 8 Million Plus…
August 3, 2022
In the Overlook development on Miami Avenue all but one Townhouse have been sold. Realtor Joe Linz and the developer, Eagle Construction have weathered many storms including two years of COVID-19. There were nine units built, and the 9th and last Townhouse is nearing completion. The new development replaces 50 year old or older apartment buildings that were in need of major maintenance work or complete replacement. Replacement was chosen as shown in the attached photos. The Townhouses include a three car garage, 4.5 Baths, 3 bedrooms, a flex room, rooftop terrace with overlook of Madeira. An elevator is optional for less than a few thousand more in cost. The photos included show the 9th Townhouse interior nearing completion. If you are interested in the purchase or want more information please call Joe Linz at 513 300 6663.
Local Woman Begins New Journey…
May 19, 2022, Local Madeira resident Alison Tepe – Guy now has another business endeavor added to her successful career in sales, a restaurant. Alison known to most as Ali, has established Ali's Bar and Grill at 7820 Camargo Road, formally Westy's. Ali is a 22-year resident of Oseola Drive and a graduate of Purcell Marian High School, where she became the first female student to participate in a men's sports program. Many remember when Purcell was an all male student school. Growing up in Norwood Ali is a product of the Tepe dynasty, a family political force for several generations. Ali raised one son as a single mom, Tyson Guy a graduate of Madeira High School in 2016. Ali explained that it was just two years ago when Tyson lost his life when he was 23 years old, he was killed in an automobile accident. The accident was caused by a drunken driver. Ali tells this writer that her loss led her to open Ali's Bar and Grill. She has support from her husband Dan Bowman, and an excellent Chef, Mattheu Case. Mattheu is a product of the Sycamore School District and began his career working at the Silver Springs restaurant located in Sycamore Township.
The messenger recommends that you try out Ali's Bar and Grill for good eating. I was given the opportunity to try out some extraordinary pizza while writing this story. I also learned that Chef Case makes everything from scratch including the sandwich buns and French fries. His French Fries brought back memories from 1961 when I was employed at Mcdonald's in Kenwood. Back then our Fries were made starting with real potatoes that were peeled, sliced, and cooked. Chef Case follows that same plan, where else will you have that same experience? Frozen Fries anyone? Stop by with your family and while there ask Ali about all of her plans for further improvements to her new digs. Photos include Chef Case making my pizza, inspecting the buns made from scratch, and a photo of the proud owner and her chef, menu, is also posted but is subject to change, please confirm with Ali before ordering.
Historic District Getting a New Neighbor
May 30, 2022
Its been ten years or longer when Restaurant Developer and local Madeira resident Thomas Powers met with City Manager Thomas Moeller looking for a location in Madeira for a restaurant. Powers already had a successful eatery in historic Loveland. Powers and partners owned Paxtons Grill. Powers looked at every possible Madeira location, but decided that his restaurant vision needed to be located in the center of Downtown Madeira, and more specifically between Laurel and Railroad Avenue, but this area of Madeira presented problems. On Miami Avenue there were three historic buildings, that included the historic Muchmore House the smaller Hosbrook House and the RR Depot. The two historic houses had been given to the city of Madeira with the understanding that the city would preserve both. The donor was Cleo Hosbrook a lifelong resident and part of some of our earliest settlers. Secondly the B&B Mower business owners were not ready to sell their property. In 2014 an amendment to our city charter was passed by 60% of Madeira voters requiring that the two historic houses had to be preserved, and protected. Shortly after the passage of the charter amendment the city created a Historic District that included both houses and the RR Depot. Another issue that delayed a new restaurant was the cost of acquiring land in Madeira. Powers made one offer to purchase B&B Mower that was way too low, a new offer much later was more than double the original offer. The higher offer was accepted by the B&B Mower owners. Then there were customer parking issues that would be solved with "shared Parking" , parking provided by 5/3 Bank and Stockyards Bank. The term "Shared Parking" is now part of our new zoning code. This new Madeira restaurant known as the "Swingline Grill", was always a welcome addition to Madeira, nobody has ever objected to the Grill. It is expected that the Swingline Grill, the name is very historic, will be open in early June, joining Ali's on Camargo Road, providing two more exceptional family eateries. Residents are looking forward to the Swingline Grill in downtown Madeira on Railroad Avenue. The messenger highly recommends your visit to both Ali's and the Swingline Grill. See the attached photos including the former B&B Mowers and the new Swingline Grill.